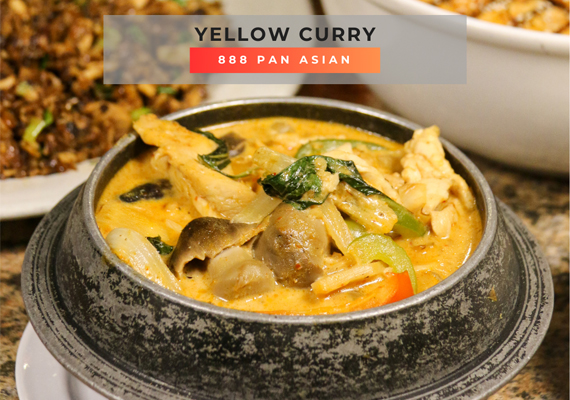 Indulge in the Richness of Yellow Curry at 888 Pan Asian!
Are you ready for a flavor-packed adventure? Introducing our exquisite Yellow Curry, a true masterpiece that's sure to tantalize your taste buds! 🍛🥥

Choose from your favorite protein - be it succulent meat, wholesome tofu, or garden-fresh vegetables. Our Yellow Curry boasts an incredible blend of ginger, kaffir lime leaves, sliced bamboo, white mushrooms, and tender potato, all perfectly high-heat stir-fried with aromatic yellow onions.

But the magic doesn't stop there! Our chef's special coconut-milk "Two-Yellow-Curry" sauce elevates this dish to a whole new level of deliciousness. 🥘✨

Served with your choice of fragrant jasmine or wholesome brown rice, or even opt for the delightful twist of fried rice. Every bite is a journey through layers of taste, aroma, and satisfaction.